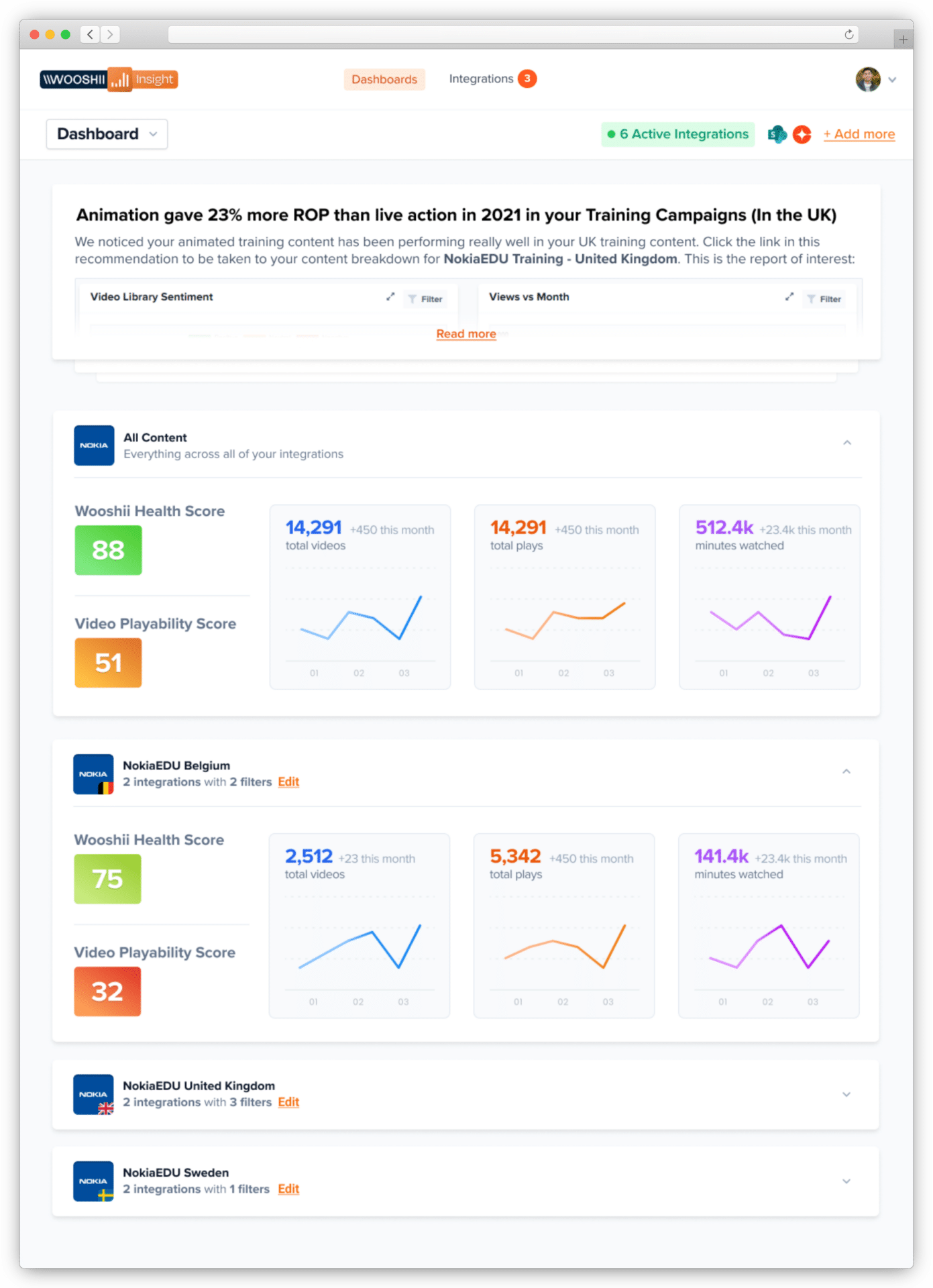 WooshiiInsight
Master business video with WooshiiInsight
The world's first video insight and analytics platform to help you understand, manage and report on your video content.


Make Your Video Work Harder
Frequently Asked Questions
How does pricing work?
Plans start at $750 per month for teams looking to monitor their own activity up to larger plans designed for those looking to get a view across mutiple teams and departments.
How much storage will I get?
Insight doesn't store any of your videos so there's no need to worry about storage. Instead, it looks at the platforms you use and creates an index of content and analytics data.
The platform you use to store videos (e.g. Brightcove) may have a limit, but we do not.
Can a real analyst help me?
Of course! You will have a dedicated data analyst answering your questions and sending you regular recommendations based on the WooshiiInsight analytics results.
Which factors are measured?
Wooshii Insight measures a wide variety of metrics.
Starting with standard metrics like video engagement and taking these to the next level to calculate Return on Production Costs amongst others.
We also create an overall video playability index and determine the unique Wooshii Health Score.
All metrics will be used to benchmark your videos against your competitors's videos.
You will also be able to add your own custom metrics.
How secure is Insight?
Technical: Insight uses state-of-the-art infrastructure to ensure the security of the platform. The application uses HTTP/SSL throughout as well as a micro-services infrastructure that routes every request through an Identity service, meaning users can only access data they're meant to.
Application: You can assign Users to Groups to restrict which sections of your data they can access.
Practical: We are being certified in ISO 27001 Information Security Management.