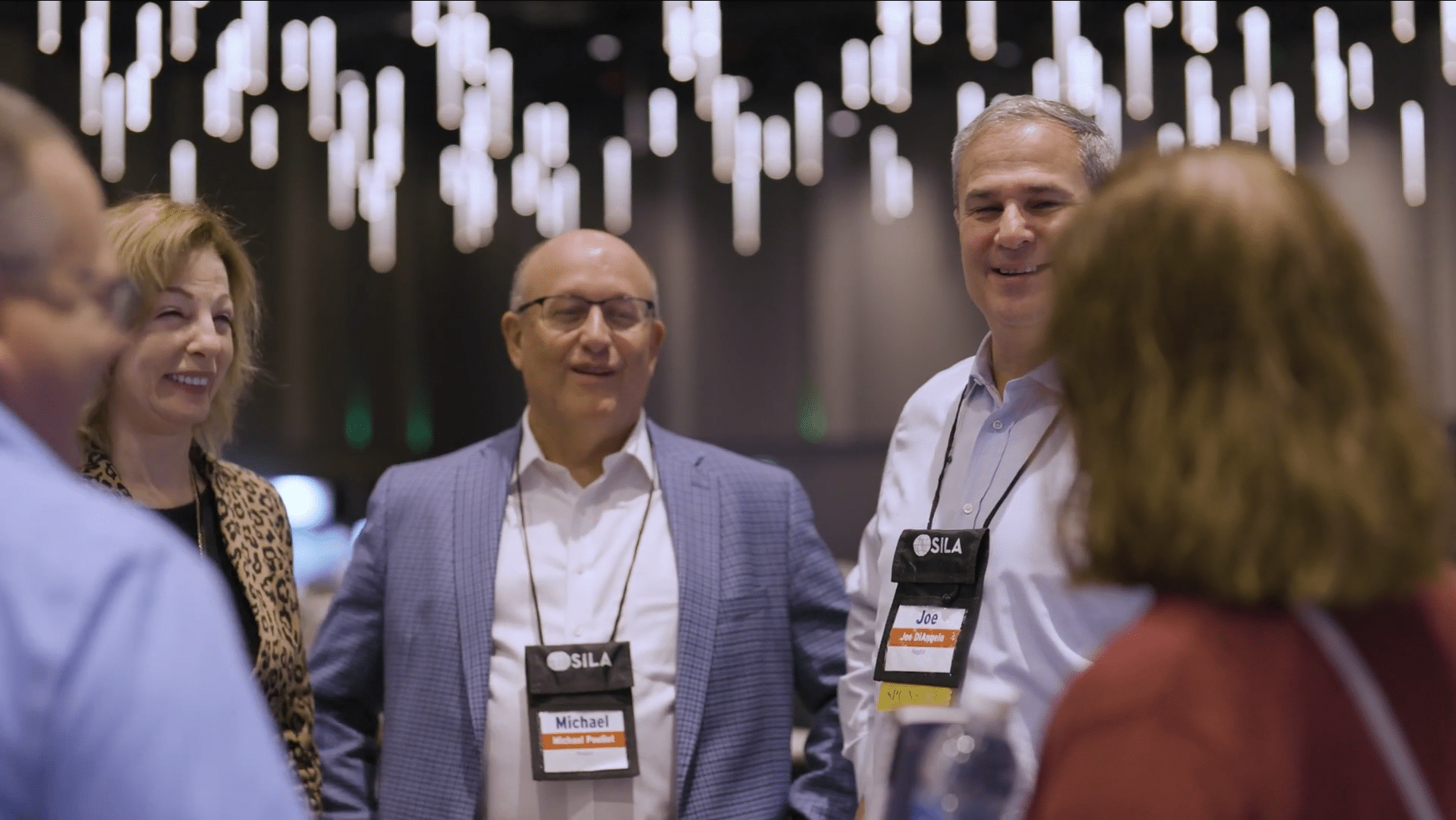 B2B Event Video Production
Effectively showcasing your event means going further than having a camera operator there on the day.

Discover how we can support with event video production across every stage of your project.




Trusted by enterprise brands including… ---
Event Video Production: We've got you covered.
Corporate events come with loads of planning and logistical headaches, but have you thought about video as a tool to squeeze more value from your time and money?
Event Video Production can drive awareness at all stages; from pre-event promotional content and social assets, to highlighting key moments from the event itself, and giving you great material to use once it's all over. It's a fast and easy way to share internal communications and gives limitless opportunities for repurposing across marketing channels, too.
Mastering your Event Video Production can be tricky, but we are here to help! With experience in a variety of styles and formats – be it live streaming, aerial filming, testimonials or social media content – we'll help you zero in on every nuance of the event, and keep your audience engaged throughout.
That's why brands like Microsoft and Sciex work with us for event and promotional content, from capturing keynote speakers and attendee testimonials, to guest interactions and promo material that drive awareness. 
Our work in Event Video Production
What equipment and technology is needed for the event filming and production process?

When it comes to filming and producing an event video, you need a lot of gear to get it done. So, here's a rundown of our usual essentials:

-Camera, camera, camera – Depending on the size of your corporate event, we'd suggest hiring at least two camera operators to be there on the day. The more footage you're able to capture, the more you'll have to choose from when putting together your final video.

-Lights, camera, action – lighting is key to creating the right mood. Any good conference venue will have decent lighting, but if you're looking to capture testimonials on the day it's probably a good idea to make sure your camera operators bring a professional lighting kit with them, so that the footage looks great no matter where it's being shot.

-Sound – quality audio is just as important as good visuals, so again, making sure your crew is kitted out with quality microphones that are right for the location is a must. Nobody wants to watch the footage back and realise you can't hear a word that's being said.

-Last but not least, editing like a pro – A post-production team with expertise in the latest editing software is essential. The better quality assets they're provided with, the more impactful the final output.
How can we ensure high-quality sound and lighting during our corporate event?

When it comes to capturing the perfect footage, sound and lighting are key. And let's face it, nobody wants to watch a video with muffled audio and a cast of characters lit like they're in a horror movie. So, here is what we do to ensure your event shines in more ways than one:

-Sound – You might think a microphone is a microphone, but depending on the location of your event you may need a few different types to capture sound correctly. Make sure your crew know exactly what they're dealing with so they can come kitted out with all the relevant sound recording equipment to capture vocals effectively.

-Light it up – Any good conference venue will have decent lighting, but if you're looking to capture testimonials on the day it's probably a good idea to make sure your camera operators bring a professional lighting kit with them, so that the footage looks great no matter where it's being shot.

-Be prepared – Our crews always have backup equipment, just in case something goes wrong and they need to make a quick switch.

-Plan ahead – If you're able to, walk your producer through the event space ahead of time. They'll put together a plan for where the lights and microphones should be placed for optimal capture.

With our top-notch equipment and experienced filmmakers, we make sure your corporate event sounds and looks amazing. Whether you need a lighting setup, a sound system, or a full-blown film crew, we have the know-how to make sure your event is a hit.
How can we effectively distribute and promote the event video to our target audience?

When it comes to distributing and promoting your event video, you want to make sure it reaches your target audience with a bang. Here are some tips to make that happen:

-Know your audience – understand who you're trying to reach and where they hang out online.
-Share, share, share – use your social media channels, email, and any other channels you have to spread the word and get your video in front of as many eyes as possible. We can support with creating promotional content ahead of your event, giving you rich content to promote to your audience.

-Collaborate with others – reach out to influencers, partners, and other organizations who may be interested in promoting your video to their own audience. Sharing is caring.

-Be creative – Explore fun and unique ways to promote your video and make it stand out from the crowd. Our in-house Creative Directors live for this sort of thing, so don't be afraid to ask for input if you've got creators block.

-Get interactive – engage with your audience and encourage them to share your video with their own network. You could even incentivize them by offering free sponsorship packages or VIP passes.

And when it comes to finding a partner to help you achieve all of this, we've got you covered. With our extensive experience in event video marketing and distribution, we can help you get your video in front of the right people at the right time. So sit back, relax, and watch the views roll in!
What are the best practices for capturing and editing footage at a corporate event?

When it comes to capturing and editing footage for an event, there are some tried and true practices that will make your video shine like a star. Here are some tips for getting the most out of your shoot:

-Don't leave anything to chance – planning ahead and having a clear vision of the final video will allow your crew to focus on making it happen during filming.

-Invest in the good stuff – Employ a crew who are experts in corporate event video production. They'll know exactly what equipment is needed to capture footage that looks and sounds professional.

-Light it up – pay attention to lighting, sound, and composition to keep your audience engaged and coming back for more.

-Variety is the spice of life – Hiring multiple camera operators allows you to capture multiple angles and perspectives, giving plenty of options to play with during editing.

-Put the story first – use pacing, transitions, and music to make sure your footage tells the story you want to tell and keeps your audience hooked. Again, our Creative Directors can help with putting together a solid brief to ensure this happens.

With our professional equipment and experienced filmmakers, you can trust that your event content will shine. Plus, we offer full-service corporate event video production including everything from script writing and style framing, to editing and sound design. Leave it to us so you can focus on the other logistics. And once the video is complete, we'll help you get it out there and into the hands of your target audience. Now that's a wrap!
How much does it cost to produce a video?

We can help with any kind of video production, and we've expertise in all the nitty gritty too—from script writing to casting, directing and editing. Our video projects usually start at £10,000, but prices vary depending on the scope and scale of your project. If you've got your corporate event calendar nailed for this year, get in touch and let's talk about making it even more valuable for your business!
Trusted to deliver by the biggest brands in the world Trusted to deliver Event Video Production for the biggest brands in the world