SME News Magazine has revealed the winners of this year's UK Enterprise Awards.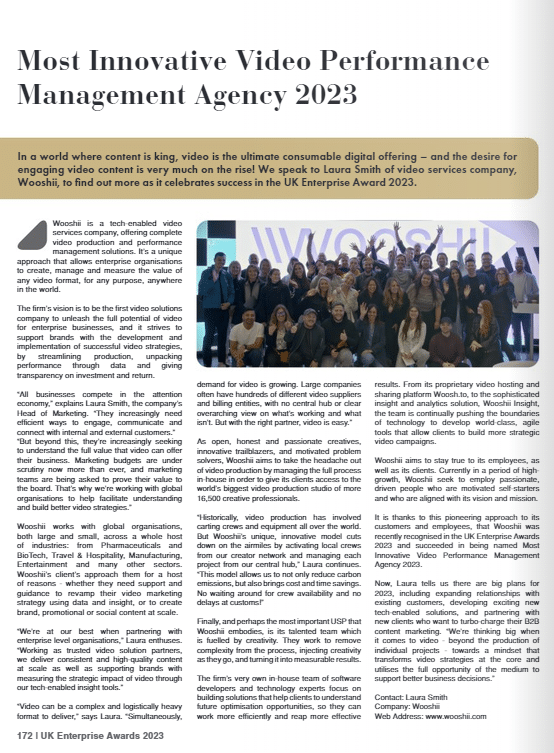 In a world where content is king, video is the ultimate consumable digital offering, and the desire for engaging video content is very much on the rise!
We speak to Laura Smith of video services company, Wooshii, to find out more as it celebrates success in the UK Enterprise Award 2023.
Wooshii is a tech-enabled video services company, offering complete video production an performance management solutions. It's a unique approach that allows enterprise organisations to create, manage and measure the value of any video format, for any purpose, anywhere in the world.
The firm's mission is to be the first video solutions company to unleash the full potential of video for Enterprise businesses, and it strives to support brands with the development and implementation of successful video strategies – by streamlining production, unpacking performance through data and giving transparency on investment and return.
"All businesses compete in the attention economy," explains Laura Smith, the company's Head of Marketing. "They increasingly need efficient ways to engage, communicate and connect with internal and external customers."
"But beyond this, they're increasingly seeking to understand the full value that video can offer their business. Marketing budgets are under scrutiny now more than ever, and marketing teams are being asked to prove their value to the board. That's why we're working with global organisations to help facilitate understanding and build better video strategies."​
​Wooshii works with global organisations, both large and small, across a whole host of industries: from Pharmaceuticals and BioTech, Travel & Hospitality, Manufacturing, Entertainment and many other sectors. Wooshii's client's approach them for a host of reasons – whether they need support and guidance to revamp their video marketing strategy using data and insight, or to create brand, promotional or social content at scale.
"We're at our best when partnering with enterprise level organisations," Laura enthuses. "Working as trusted video solution partners, we deliver consistent and high-quality content at scale as well as supporting brands with measuring the strategic impact of video through our tech-enabled insight tools."
"Video can be a complex and logistically heavy format to deliver," says Laura. "Simultaneously, demand for video is growing. Large companies often have hundreds of different video suppliers and billing entities, with no central hub or clear overarching view on what's working and what isn't. But with the right partner, video is easy." ​
​As open, honest and passionate creatives, innovative trailblazers, and motivated problem solvers, Wooshii aims to take the headache out of video production by managing the full process in-house in order to give its clients access to the world's biggest video production studio of more 16,500 creative professionals.
"Historically, video production has involved carting crews and equipment all over the world. But Wooshii's unique, innovative model cuts down on the airmiles by activating local crews from our creator network and managing each project from our central hub," Laura continues. "This model allows us to not only reduce carbon emissions, but also brings cost and time savings. No waiting around for crew availability and no delays at customs!" ​
​Finally, and perhaps the most important USP that Wooshii embodies, is its talented team which is fuelled by creativity. They work to remove complexity from the process, injecting creativity as they go, and turning it into measurable results.
The firm's very own in-house team of software developers and technology experts focus on building solutions that help clients to understand future optimisation opportunities, so they can work more efficiently and reap more effective results. From its proprietary video hosting and sharing platform Woosh.to, to the sophisticated insight and analytics solution, Wooshii Insight, the team is continually pushing the boundaries of technology to develop world-class, agile tools that allow clients to build more strategic video campaigns.
Wooshii aims to stay true to its employees, as well as its clients. Currently in a period of high-growth, Wooshii seeks to employ passionate, driven people who are motivated self-starters and who are aligned with its vision and mission. It is thanks to this pioneering approach to its customers and employees, that Wooshii was recently recognised in the UK Enterprise Awards 2023 and succeeded in being named Most Innovative Video Performance Management Agency 2023.
Now, Laura tells us there are big plans for 2023, including expanding relationships with existing customers, developing exciting new tech-enabled solutions, and partnering with new clients who want to turbo-charge their B2B content marketing. "We're thinking big when it comes to video – beyond the production of individual projects – towards a mindset that transforms video strategies at the core and utilises the full opportunity of the medium to support better business decisions."
Awards Coordinator, Kaven Cooper, took a moment to discuss the success of this year's programme: "I am proud to have hosted this year's UK Enterprise Awards, where I have had contact with a widely diverse selection of individuals and companies which, in essence, raise the bar for business within the UK. It has been a pleasure to be involved with the programme and I want to wish our winners all the best for the years to come – and congratulations again."
Now in its seventh year, SME News' UK Enterprise Awards programme is continuing to present the best of the best across a wide span of industries and sectors. The goliath stands strong again this year, influencing and informing the corporate landscape within the UK. The companies within this year's programme have rich, distinct knowledge which has done more than inspired us – they each elevate their respective industries and set a trail ablaze for the future generations of business to come.
View the full list of winners here