Hey, how's it going? New financial year, new goals and BBQ plans at the back of your mind…a lot is happening fast. Time is zooming by; just like AI updates in pretty much every creative arena…
\\ This Month
AI Sorcery: Let's face it we are as slow as trees when it comes to AI
B2B Elevator Music: Shall we all just collectively stop…
Want to be a YouTube Master: We have the webinar for you
Let's Talk About Virtual Production: Is it accessible?
Don't miss our April chart toppers as we share how marketers are measuring the success of their videos.
\\ Snippets
DVD's are DONE.
No, this is not content from the past. It's actually just been announced that Netflix is bringing its DVD business to a close. Originally starting as a company that delivered DVDs through mail, Netflix will send out its last set of discs via DVD.com on September 29th 2023. In a recent blog post, the company expressed that despite its 25-year-long success, it has decided to wind down DVD.com as the business continues to shrink, making it increasingly challenging for them to provide the best service to their members. It's not much of a surprise they are giving it a rest considering they are THE streaming giant, but did anyone even know Netflix was [still] doing this? (The Verge)
Games have the power to normalise grief
Recent news from The Guardian shares how experts suggest that playing video games can help individuals cope with grief, by providing an immersive experience that allows players to temporarily escape difficult emotions. Research also shows that video games can offer a unique way to communicate and connect with others during times of loss. As a result, video games are increasingly being recognised as a valuable tool in grief therapy, providing a safe and controlled environment for individuals to process their emotions and express themselves. It's quite an extraordinary way to look at video games since so much news around gaming tends to be negative.
Canva's Magic: Design Sorcery
Did you hear the news fellow marketers? Canva, the popular design platform, just waved its wand and conjured up some new AI tools called "Magic". With these tools, we'll be able to create designs and automate tasks faster than you imagined. The marketers fav tool also hit 125 million users. With AI experimentation it looks like familiar templates in that 'Canva style' will become a little more creative. They even have a text-to-image generator. It's a little weird but it's getting there! Seems like everything is getting an AI revamp – even Adobe has announced new updates to its Creative Cloud suite, including new AI tools for Adobe Stock that will help users find and licence images more efficiently. The updates also include new features for Adobe Photoshop and Adobe Illustrator, such as a customisable toolbar and new presets for graphics. More AI antics below.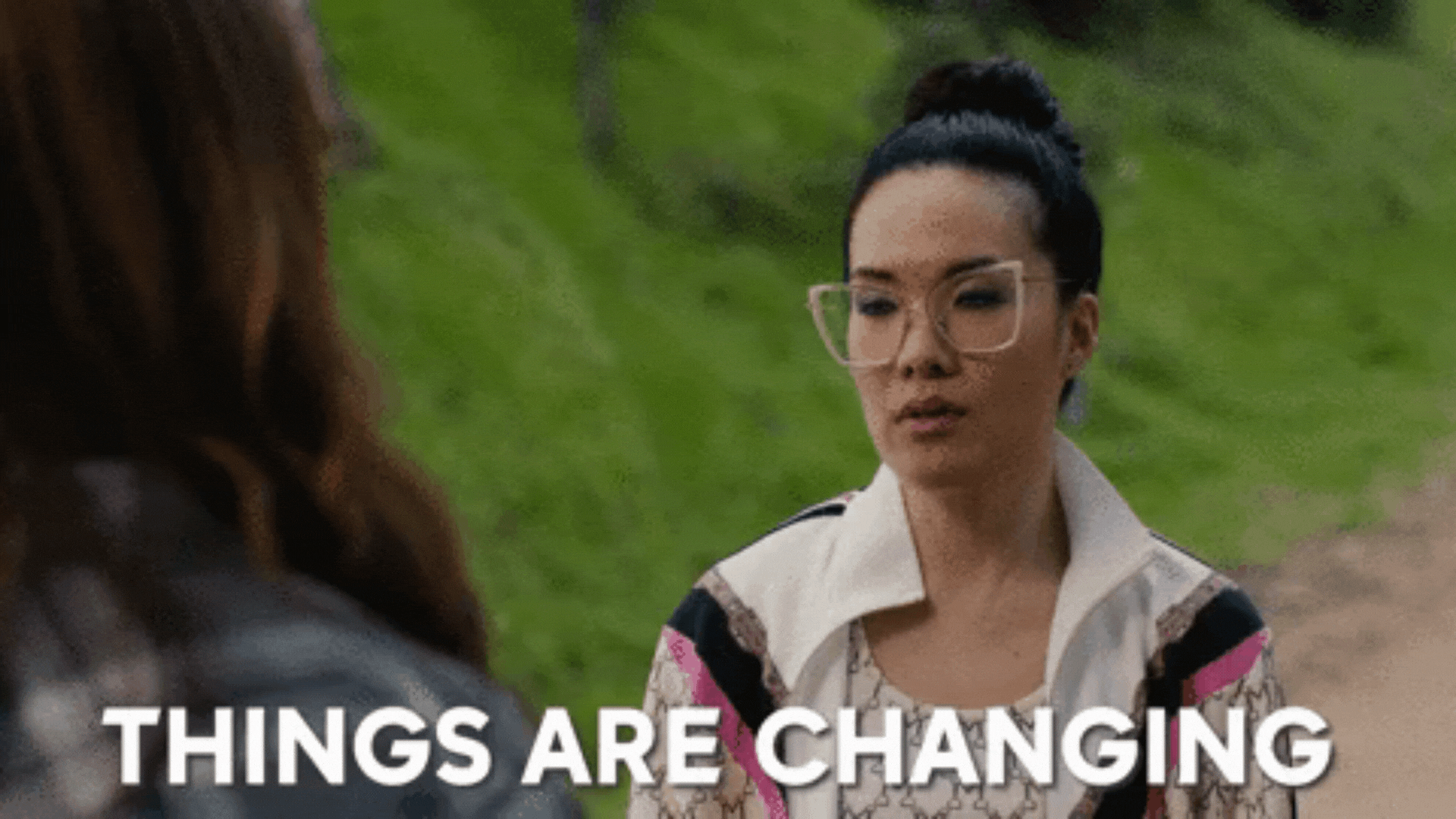 It's a pretty great time to get a PhD in AI
Humanities and creative specialists look away. It gets a bit hurtful. Just remember AI is a powerful tool that can help us tackle complex tasks and make our lives easier. However, despite all its capabilities, AI still needs human creativity to execute. Saying that…Every major business is trying to get to grips with AI and top companies are making their presence felt at universities. Per Insider, the corporate world is "ransacking" academia. Headhunters are recruiting students so early — even undergrads are in demand right now — that enrollment is dipping for postgrad programs. Looking for further study opportunities? AI is where you can make major bank.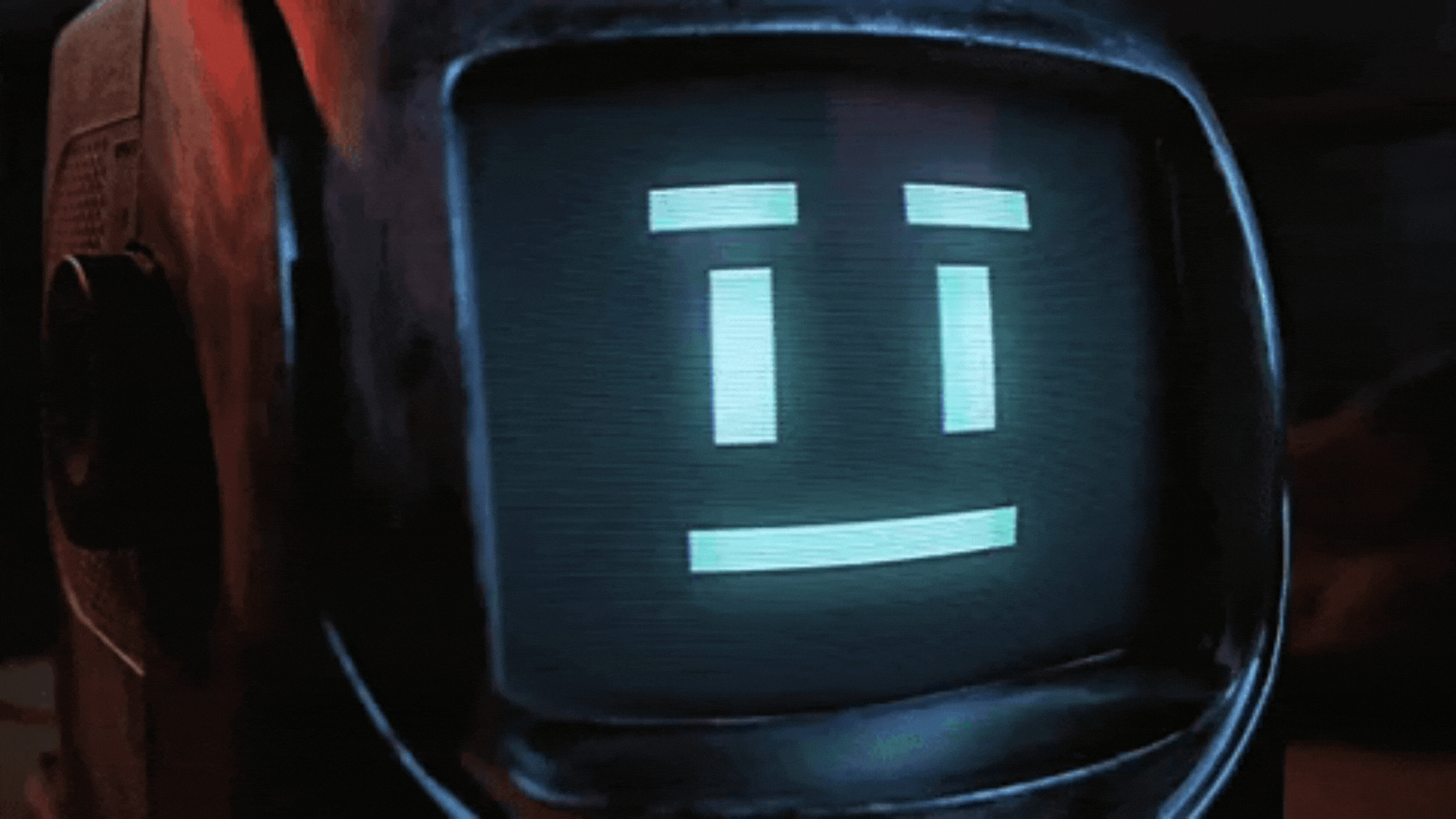 \\ Hot Topics
Never-ending experimentation.
Today, social media feeds are filled with fantastical 3D billboards that most people will never see in real life. Could AI-simulated outdoor ads be the next step in this never-ending experimentation? The possibilities for outdoor art installations that blur the lines of fact and fiction in advertising are endless. Out-of-home (OOH) billboards have become ubiquitous in the digital age, with many people encountering them through social media rather than in person. This trend has raised questions about whether outdoor ads are designed for virality rather than accuracy. With the advent of AI-generated content, the line between fact and fiction in advertising has become increasingly blurred. As advertisers continue to indulge in one-shot executions designed for timelines rather than pavements, it begs the question: Would it matter if the billboards were not real at all? Could we be entering a new era of simulated out-of-home advertising?
There are pros and cons to blurring the lines between fact and fiction in advertising. On one hand, it allows for more creativity and innovation, which can captivate audiences and create memorable campaigns. It can also be an effective way to explore complex ideas and evoke emotions. However, it can lead to misinformation and confusion, eroding trust between brands and consumers. Striking a balance between creativity and transparency is crucial. What are your thoughts on this juicy stuff? (The Drum)
Does anyone actually like elevator music?
Let's talk about music. Or more appropriately, let's talk about music in B2B (sounds boring already right – but that's the point). B2B brands often overlook the importance of music in their advertising campaigns, whereas consumer brands use music as a key component to enhance their brand image and connect emotionally with their audience. Think about the iconic Cadbury's Gorilla ad, it firmly imprinted Dairy Milk in the minds of generations of adults and children with Phil Collins' In the Air Tonight. In today's world, audiences, including B2B buyers, tend to get bored easily. To avoid monotony, incorporating more engaging music in your videos is a simple yet effective way to spice things up. Music is universally loved, and experimenting with something more adventurous is unlikely to cause offense. In fact, it could even enhance the overall experience and captivate the audience's attention. (The Drum)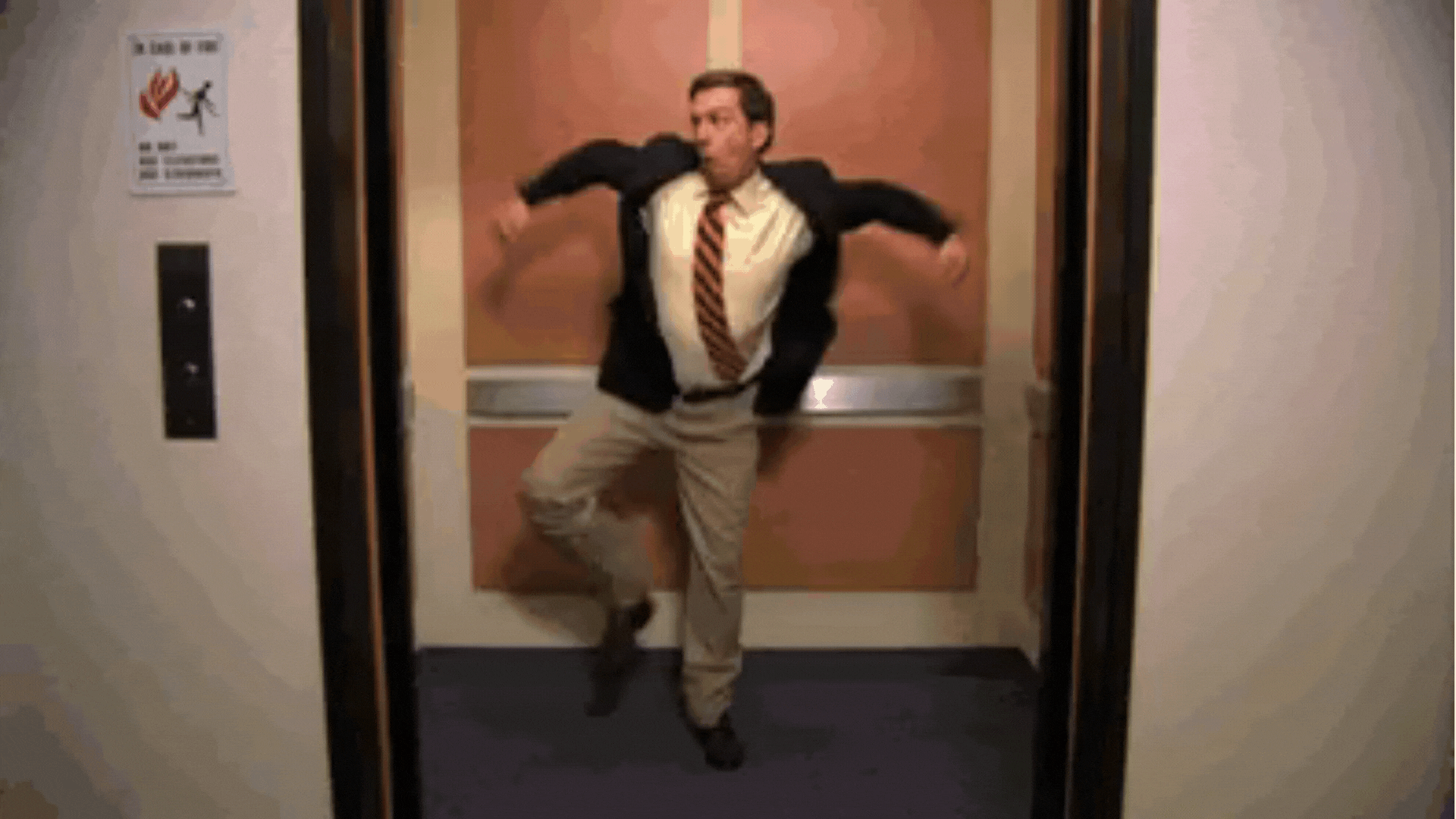 AI music is going to blow your mind.
An AI-generated Drake song featuring The Weeknd goes viral on TikTok, with an unknown user named @ghostwriter977 taking credit for the lyrics. Despite the anonymity of the creator, the song "Heart on My Sleeve" attracts millions of views and streams. People are loving the song! We won't share the link as the original YouTube link is removed due to a copyright claim by Universal Music Group. But it's pretty major, even Drake posted "This is the final straw AI," on his Instagram. Although loads of copies of the song are still available on various other platforms. What do you think? The situation raises concerns about copyright and ripping off artists with the use of AI in music creation. AI is seriously the topic of 2023 (The Verge).
If you had to pick 1 option to describe your thoughts on AI music what would it be?
Shady AF/ Seriously Scary/ Worryingly Wicked
Is Virtual Production the Green & Mean Ad-Making Machine for All?
Virtual production has been on the rise in recent years, revolutionising the world of advertising by offering a cheaper and more sustainable alternative to traditional filming. According to a report by Statista, the global virtual production market size is expected to reach $3.8 billion by 2025. This significant growth can be attributed to the increasing demand for high-quality and cost-effective content creation, as well as the need for sustainability in the advertising industry. However, the question remains: is virtual production accessible to all? Someone cheeky (and honest) might just outright mention that Wooshii is leading the way in virtual production in the digital world. As we specialise in creating content through a range of virtual production techniques, including virtual and augmented reality, motion capture, and computer-generated imagery (CGI). Find all your virtual production answers in our new blog.
\\ Chart of the Month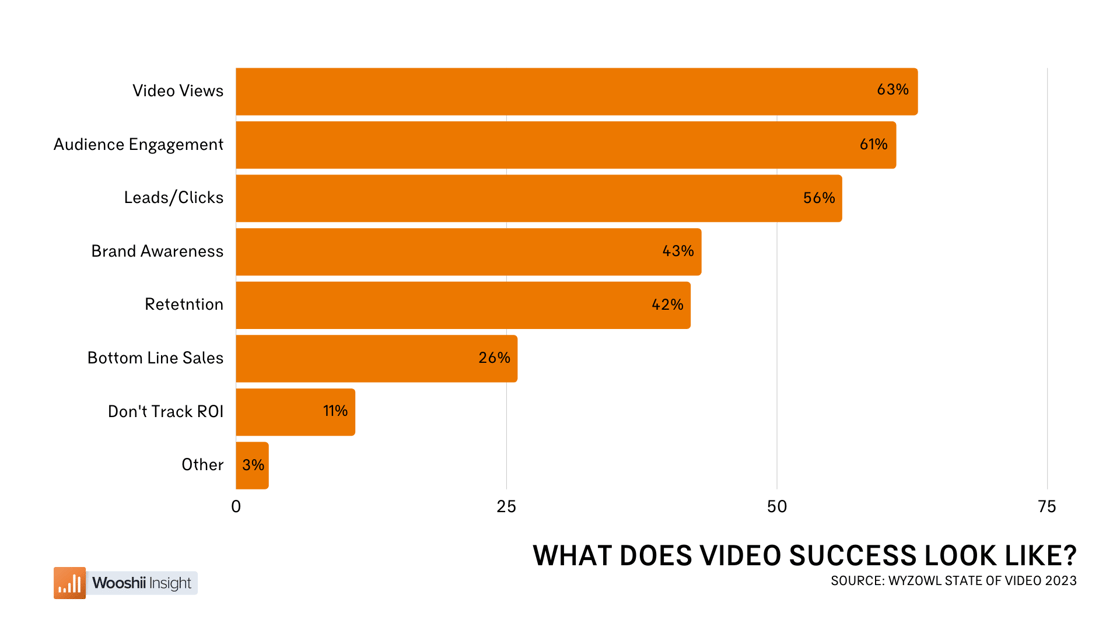 Do you know what the most important metric is for marketers when it comes to evaluating the success of their video marketing campaigns? It's the number of video views, and it's favoured by a whopping 63% of them! However, despite the significance of video marketing in today's digital age, only around 35% of businesses are using intermediate or advanced analytics to track their video performance, according to HubSpot.
Now, think about it – with the exponential growth and widespread use of video marketing, wouldn't it be smart to invest in a more reliable and accurate way of measuring its impact? I bet you're nodding your head in agreement!
\\ Standout Videos
🎥Trending TV trailer: This is SO good. Catch Steven Yeun and Ali Wong in BEEF. 🎼Hottest music video: An uplifting spring gem: Cat Burns – live more & love more (lyric video) – YouTube 🎬Our video ad inspiration: This Dove ad is from our Sales Director. It has a truly important message and is captured with such thoughtfulness.
🎼Hottest music video: An uplifting spring gem: Cat Burns – live more & love more (lyric video) – YouTube
🎬Our video ad inspiration: This Dove ad is from our Sales Director. It has a truly important message and captured with such thoughtfulness.
\\ What's Happening at Wooshii?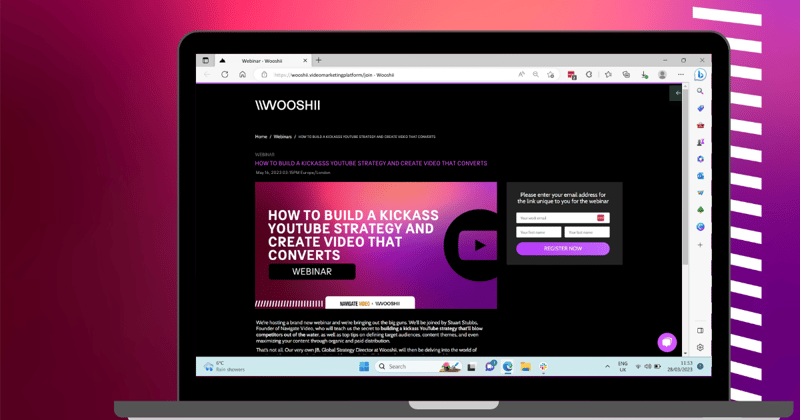 We're hosting a brand new webinar and we're bringing out the big guns. We'll be joined by Stu Stubbs, Founder of Navigate Video, who will teach us the secret to building a kickass YouTube strategy that'll blow competitors out of the water, as well as top tips on defining target audiences, content themes, and even maximising your content through organic and paid distribution. That's not all. Our very own JB, Global Strategy Director at Wooshii, will then be delving into the world of creating video content that's optimised for search. You'll discover how automation is enabling performance-focused brands to think BIG when it comes to video in 2023.
What you'll learn:
Leveraging YouTube's potential for b2b brands
Developing an effective YouTube strategy
Optimising content for organic and paid distribution on YouTube
Discover how brands are using automated video to turbocharge their SEO and CRM metrics
Handouts and an insider look at Wooshii's work with automated video.
Register to catch the webinar on Tuesday 16th May @ 15:15 (GMT) or watch it in your own time on demand. We hope to see you there!
Are we missing anything? Oh yeah we have another blog for you this month: 105 Video Stats for your 2023 Strategy
Prone to a little FOMO? Subscribe to our monthly newsletter and you'll never miss out!
Trusted to deliver by the biggest brands in the world