Marketers and brands can now leverage video for Sponsored Content and Company Pages, to reach their audiences on LinkedIn.
"We have seen a lot of demand from people looking to use video as a tool to drive results for their businesses," says Abhishek Shrivastava, director of product for LinkedIn Marketing Solutions.
Are you keeping up to date with LinkedIn's latest developments?
As marketing experts/attentive business partners, we wanted to make sure you take full advantage of this unique platform to complement your B2B strategy.
So here's the latest… You're welcome!
Once upon a time… Hummm… long story short: Video IS the most efficient way to capture an audience's attention on social media.
A few months ago, LinkedIn allowed users to share organic, native or uploaded videos on its platform. What did users think of it? Enthusiastic creators have seen this as a great opportunity to share knowledge and information on a platform that was often regarded as "a little dull".
VIDEO FOR COMPANY PAGES
"B2B marketers and professional audiences and professional contacts (…) can use the video [tool] we're launching across their funnels. Whether they're looking to generate brand awareness, sending people to websites to take an action or connecting leads, they can showcase the video and if the member watching is interested, they can collect the leads right away," Shrivastava said.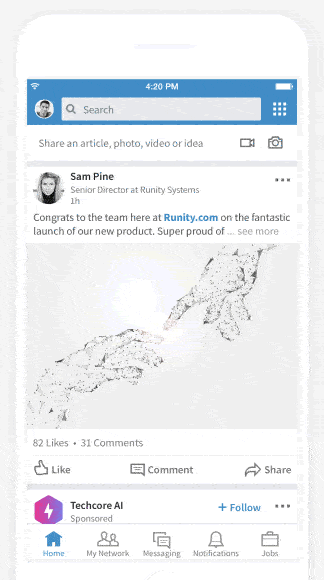 Starting today (Thursday, March 29 for those of you who will open this letter later), LinkedIn will make video sharing available on Company pages – this means that businesses and publishers will, too, be able to benefit from this new tool.
What does that mean for organic reach and engagement on LinkedIn?
–> LinkedIn found Company Page videos to be 5 times more likely to start a conversation among members than other types of content.
Didn't we tell you we had your best interest at heart?
Video FOR Sponsored Content
If you are reading this newsletter, you already know that video is great for engagement. However, even the best and most engaging video will be wasted if it doesn't reach the right audience.
Today, LinkedIn will also launch its Video for Sponsored Content product.
Native video ads bring together the power of video and targeting on LinkedIn. With the Video for Sponsored Content, you will now be able to build the right audience for your video campaigns using any of the targeting already available to advertisers, such as job title, seniority, company name, industry, skills, as well as Matched Audiences targeting – a demographic and interest targeting tool of the people who have visited your website.
Video for Sponsored Content ads live directly in the feeds as standalone, sponsored posts and auto-play on mute when in view.
According to LinkedIn, since October 2017, over 700 advertisers have tested Video for Sponsored Content to highlight their products and services as well as their company mission and customer stories.
–> On average, LinkedIn members have spent almost 3 times the amount of time watching ads embedded with video vs static ads.
Video for Sponsored Content will allow you to measure success through insights and detailed breakdowns of the types of professionals watching, engaging with, and even converting on your video ads!
For Renske Siersema, Social Media Manager at KLM, "Video stands out because it doesn't tell, but it shows. On a platform where there's more business content, the video stands out more, especially on LinkedIn."
Both video products are rolling out now and will be available to all businesses in the coming weeks. For more information, go to linkedin.com/videoads.
Credits: wersm.com, marketingland.com, business.linkedin.com