Wooshii CEO Fergus Dyer-Smith speaks to Tom Madsen-Mygdal as part of VideoDays 2022 hosted by 23: An annual gathering of the world's leading agencies with a series of talks on all things video!
Take it away, Ferg!
I thought I'd start by taking a step back and giving an overview of why we exist and how we came to be, and a little bit around how we help our customers think about video.
We often talk a lot about what we call the 'attention economy'. We didn't coin that phrase, but we like it. The basic premise is that as a client or as a customer, we're all sitting and working within this landscape in which twenty four hours a day, seven days per week there's something that's trying to capture our attention – that could be Spotify, Audible, Facebook, Social Media or of course, video. It doesn't matter who you are, where you are or what company you're running, you're having to compete with all these other traps on a person, or a user's, attention. That means as a business you have to try and find some way to break through that and deliver your messages to your intended audience.
The Attention Economy
Fortunately for us, video has emerged as the winning format – and with good reason. The winning device is really the mobile device on which video works particularly well, I'd argue better than written text. You can watch while you're travelling or on the move, you don't even need to see the pictures in some circumstances.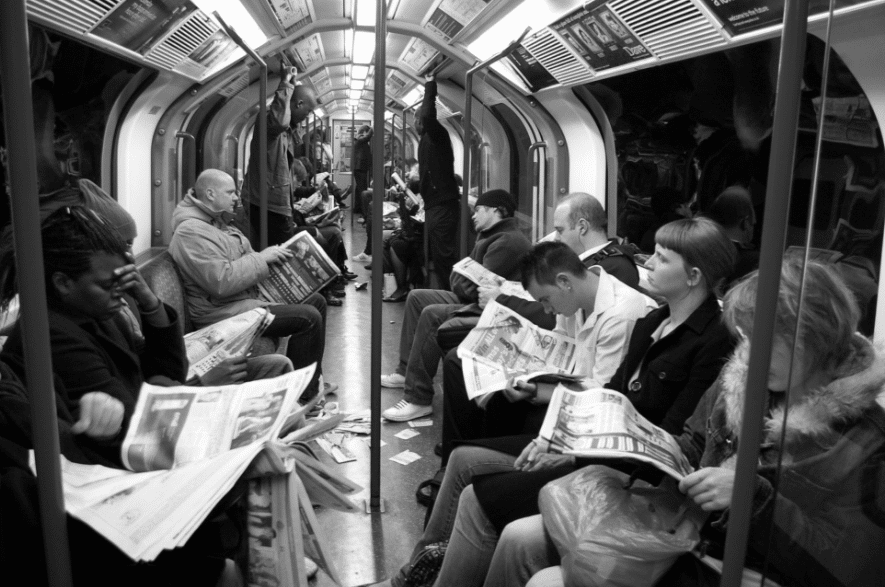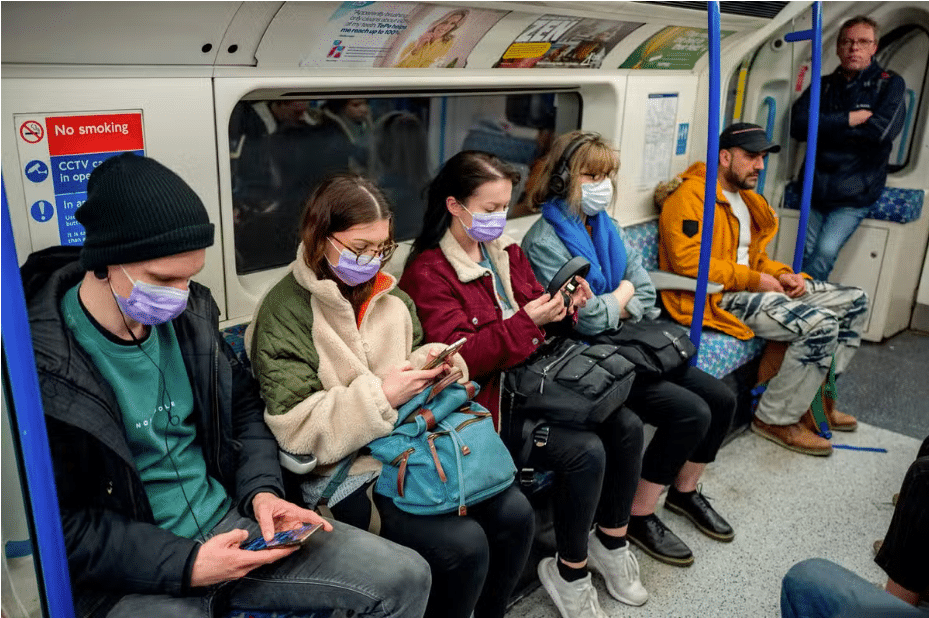 We've probably all seen things like this. The London Underground in 2011 versus 2022. I think you get the idea! What's really interesting is that in the last ten or so years a lot of money has gone into the video medium. And in the main, that spend initially went into marketing. It's clearly a good format for delivering messages and is very engaging, so marketers were reasonably quick, I would argue, to pick it up as a tool to deliver messages out to their intended audience.
But what we're increasingly seeing is that now almost every person within a business, or every unit within a business that deals with communication, especially if it's asynchronously, is looking to video as the main medium in which to do that. That could be compliance, training, HR, internal comms, external comms. It doesn't matter who you are or what department you work in, video is now a format which you will consider quite largely as a route to getting your message out to your audience.
The Content Pyramid
We call it enabler content, and we sometimes refer to it as a content pyramid. At the top you've got the glossy, beautiful looking ads that you see on TV, at the bottom you've got a lot of UGC, and in the middle you've got this growing expanse of everything else. All the functional content that's getting made by brands. Now, that doesn't mean that it's not good quality, it's often very good quality with companies like us ensuring that occurs. Obviously it still has to represent the brands and the businesses in the right way, so making sure that content is looked after means they'll increasingly turn to companies like Wooshii to deliver that.
We work with over 100 brands around the world, typically in a global fashion, helping them scale their enabler content all across the world and making thousands and thousands of videos a year. And I thought it might be interesting to give a glimpse of what we talk to customers about in terms of how they should think about video, and give you one of the frameworks that we use to help them understand how they might think about creating, measuring and managing their video content.
A Framework For Success
So typically when we first start working with a customer, they're already doing a bit of video and often they're working with other content as well. They usually have a brief which sits at the centre and often will include what the messaging is, who the audience is and the goals of any given campaign. Then out of that brief will fall all sorts of other types of content such as articles, emails, perhaps podcasts, social imagery and of course, video. All those different content pieces fall out of that one same brief.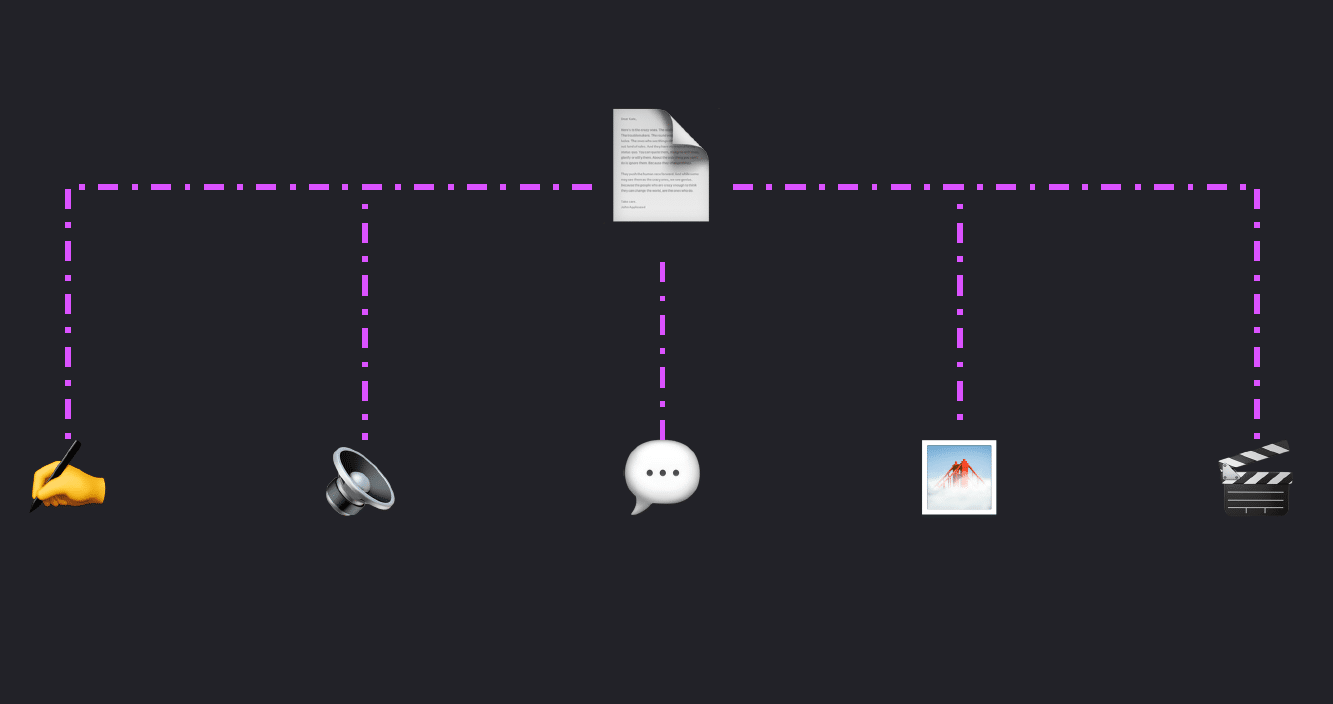 Actually all too often we come across clients with a set-up that looks a bit more like the below where the video because it's the hardest to do, or at least the most involved, will often get pushed to the end. And many times when we first start working with clients, the other content has already been thought through and the video is almost a second thought. That comes with a number of challenges which we'll get into in a minute.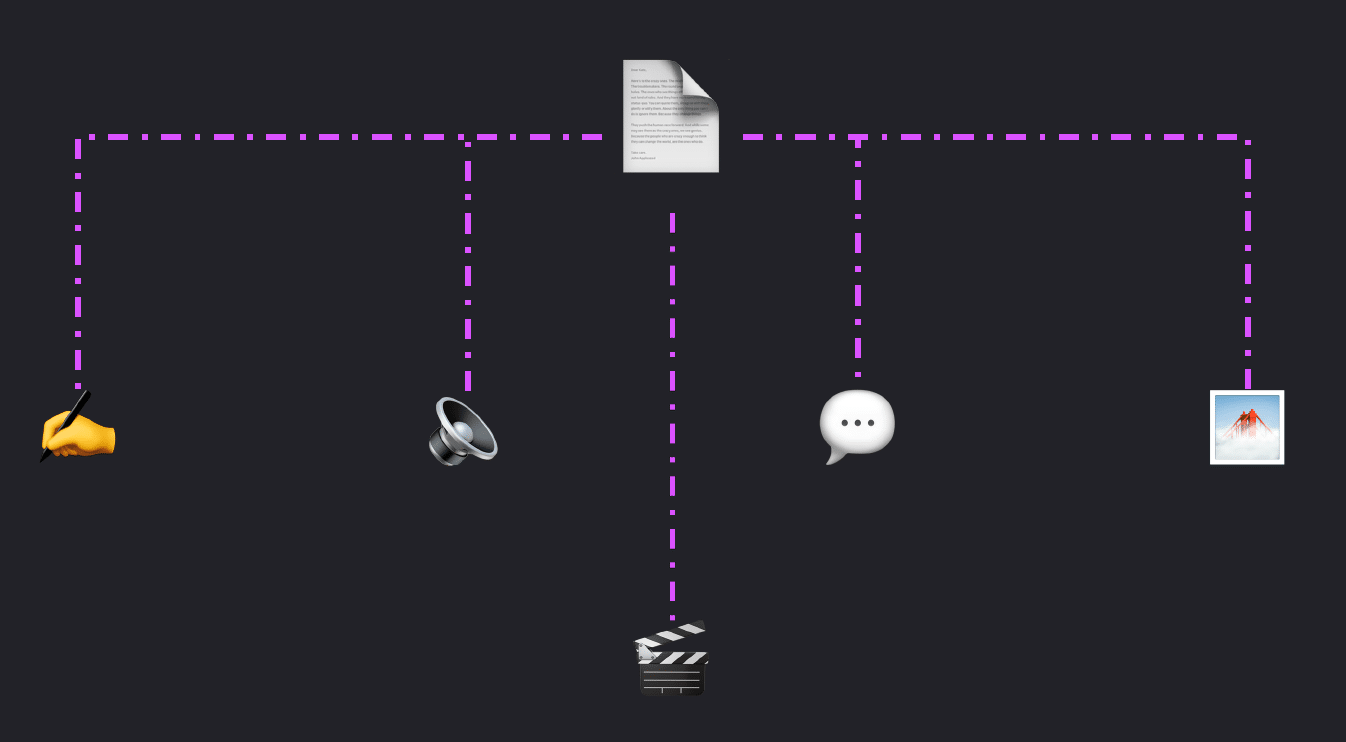 Think 'Video First'
The way we encourage our customers and clients to approach this is to think 'Video First', and there's a number of really good reasons why you should do this.
In terms of what that actually means, it's essentially an ethos to apply when you're designing your brief, identifying your audience and developing your messaging. Think of the outcome in terms of what it would be if delivered as a video and almost disregard the other content forms in the first instance. I know that sounds very self-serving, which it is, but there are a couple of really good reasons why it's such a helpful and strategic way to think about content output.
So let's think of it in chunks.
The first element is that by thinking Video First, you actually make all the other pieces of content much easier to deliver. 
When you think about what's needed in terms of designing a video, you have to think about the story, the narrative, the tale you are going to tell. It doesn't matter what sort of video it is, whether it's an animation, a product video, an HR video, a customer testimonial – they all have some sort of story, an extended period of time during which you're going to deliver a message. All of this has to be thought through before you can actually get into production, or even get into pre-production really, on any given video. You also have to think through the characters. Who are the people that are going to be in the video? Who's going to be the star? It may be people, it may be a product, it may be a service. So 'character' really means what is the star and how is it going to be represented in the video that you're about to create? Again, you need all that before you get anywhere near production. And then of course, you need to think through things like visuals, aesthetics, what's it going to sound like, what's the overall appearance of the video? 
Now all those things are of course needed for a video, but actually once you've got them set up, it's very easy for other pieces of content to fall out of that. So if you understand what the visual aesthetic is, it's very easy to generate imagery for social. Once you know what the story is, it's very easy to quickly create blog posts or mailers or podcasts. The Video First Mindset is a really succinct way of thinking about your overall content campaign, before you get buried in the rest of the content that needs to be produced.
The second element is more practical, and that's around the cost and time associated with video production.
Of all the content types, video generally takes the longest to produce. There's all sorts of moving parts, logistics, people and equipment that has to be taken into consideration when you're thinking about video. So by actually getting to your video first, you can get a lot of that up and running and in production while you start thinking about the other content that may fall out afterwards. By doing that, you're also going to be able to drive the best pricing for your videos. If you don't have much time, you don't have the ability to negotiate. You can't go and find multiple vendors, you can't bulk buy so easily, and your production company may have to pull in extra resources to make up for the shortfall in time. There's all sorts of things swirling around. The more time you have to make a video, the better prices you're going to be able to drive. 
Video First is something that we talk about a lot with our customers. It's a really simple idea, which is why we like to develop strategic partnerships based on this ethos. We love to get involved as early as possible, helping to scope out the overarching objectives of the campaign and thinking about the video as the foundation piece. Now of course in some instances this mindset isn't entirely applicable, but 90% of the time it's a great way to think about how you're going to tackle your next content plan.
If you'd like to explore the Video First Mindset in more detail I'm more than happy to jump on a call.
About Wooshii…
The way we deliver and execute is through a network of thousands of production entities all around the world that we've built up over a number of years. This allows us to deliver content very quickly and offer a huge choice to our clients – anywhere in the world, at any time. And it's all connected by different pieces of technology. So we think of video as a life cycle. You've got the create phase, which is, what are you going to make, how is it going to look? Once you've got a video, you then have to think about what you're going to do with it and how/where it will be distributed. And then you've got the measure element, which is, 'okay, now I've done something with my video, how do I know that it actually helped me and worked?'. We work across all three of those. More info about us can be found here.
In terms of tools we have:
WooshiiJobs – our network, our marketplace, and how we interact with this big global network of suppliers that we have. It's used by us and by some of the largest agencies in the world to manage and run video projects. 
WooshiiInsight – an analytics and insight tool that plugs into YouTube, BrightCove, and multiple different video asset libraries to suck in data. It enriches the data and spits out all sorts of different ways of looking at that information to understand what's working and perhaps what isn't working.
And finally we have management tools such as Woosh, a video sharing platform and feedback tool – very lightweight, designed specifically for producers and a very quick way for producers to speak to clients, share video files and capture feedback.
Trusted to deliver by the biggest brands in the world