How to Build A Kickass YouTube Strategy and Create Video That Converts
We're hosting a brand new webinar and we're bringing out the big guns. We'll be joined by Stuart Stubbs, Founder of Navigate Video, who will teach us the secret to building a kickass YouTube strategy that'll blow competitors out of the water, as well as top tips on defining target audiences, content themes, and even maximizing your content through organic and paid distribution.
That's not all. Our very own JB, Global Strategy Director at Wooshii, will then be delving into the world of creating video content that's optimised for search. You'll discover how automation is enabling performance-focused brands to think BIG when it comes to video in 2023.
---
What you'll learn in our webinar:
Leveraging YouTube's potential for b2b brands
Developing an effective YouTube strategy
Discover how brands are turbocharging their SEO and CRM metrics
Handouts and an insider look at Wooshii's work with automated video
---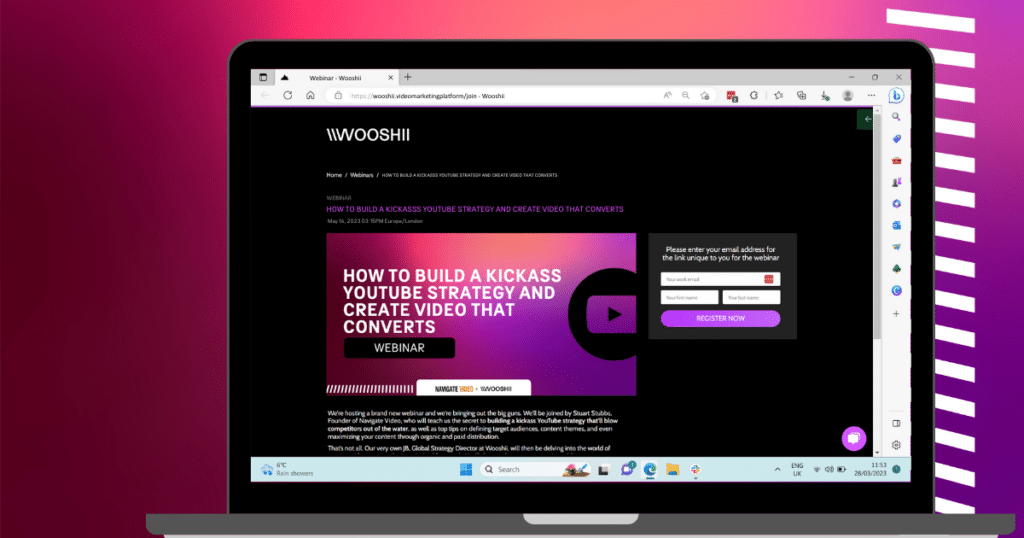 Meet our expert speakers:
Stu Stubbs, Founder at Navigate Video
Stu founded Navigate Video in 2015 with the ultimate aim to support a business' video process and to make their output more effective and efficient. He has over 20 years experience working in startup environments, building client services and media teams and has worked with iconic brands such as British Airways, Marks and Spencer and Universal Music.
Navigate Video is an award-winning team of video strategists who help businesses grow by transforming the performance of their YouTube video content. Using research and data, we help our clients understand what is important, what works best, and how to create long-term video performance strategies that extend user journeys and ultimately, generate sales.
Jonathan Bates, Global Strategy Director at Wooshii
JB is a video specialist at Wooshii with experience across creative, commercial and technical aspects of large-scale video projects. Over the last few years, he's led video teams at major broadcasting companies, helped publishers increase productivity with cloud-powered video technology and delivered award-winning campaigns for a fantastic range of global brands.
Wooshii is a video production solution designed specifically for enterprise use, offering a distinctive approach to create, manage, and evaluate video content on a large scale. Wooshii boasts a worldwide network of more than 16,500 production experts, in conjunction with its project management platform, enabling unlimited production capability. As a result, fast turnaround and worldwide shoots can be carried out simultaneously without the need to fly film crews and equipment around the world – this strategy also reduces carbon emissions.

Prone to a little FOMO? Subscribe to our monthly newsletter and you'll never miss out!